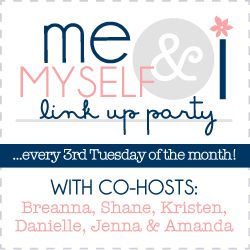 I can not believe Christmas is so soon! I really don't feel prepared.
I went shopping today for all the last minute stocking goodies but I am still wildly unprepared!!!!
In hopes of getting myself amped up for the holiday season I thought I would link up to the Me, Myself & I party.
1. What was your favorite gift given to you as a child?
I really can't decide...
The best gift I got was my laptop. My laptop is so essential and it has served me so well. Unfortunately, it is getting all wonky and I think its going to die soon.
My favorite gift would have to be....... ahhh I don't know.
2. What song could you listen to on repeat?
All of them. Seriously. But if I had to choose...
and of course Santa Claus is Coming to Town
3. What are a few items on your Christmas list this year?
I had a few things on my list mainly a Camera.
or
Also, anything from IKEA
But my family is broke so I am not really expecting much. My boyfriend and I are also saving money for our big move! We are moving on Jan. 1!!!!
4. Do you and your family have any special traditions?
Not much. My mom and I would usually open a present up on Christmas Eve but since I moved out I don't do that anymore. Also, my mom will cook up something sweet Christmas morning. One year she made home-made donuts, usually it is warm-ooey-gooey-cinnamon buns.
5. Which do you prefer: Gift wrap or gift bags?
Gift wrap!!!!!! I wish I could wrap gifts everyday. I even wrap my own presents (as long as I can't see what the item is).